Your information is
100% Safe
Certified and Guaranteed!
Dolphin Tapestries
---
Scroll down the page to see our full selection!
"Dolphin Domain"


Limited Edition


$1,599.00
$749.00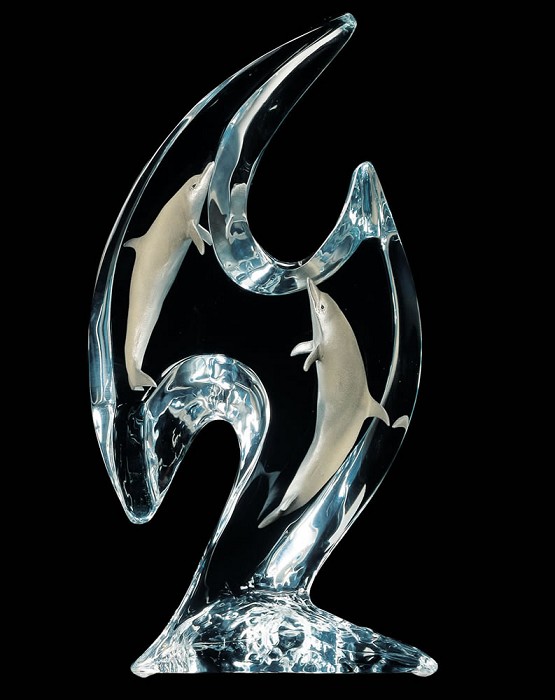 Click on image for larger view
du688027


This limited Edition "Dolphins Domain" is created by award-winning artistic genius Dan Medinas. Two dolphins are accentuated by shaped Lucite as they swim through the waters of their domain.

[View Artist Info]

This artwork is made of Mixed Media Bronze dolphins that are suspended in Lucite.
Lucite® is an optically clear, hand-crafted material that has the ability to be reformed into any desired shape. Several magnificent finishes-from crystal clear when polished, to a milky-white opaque when frosted can be achieved. It has the desirable characteristics of transparency and crystal clarity. Lucite® is also UV resistant.

Can be lit from below for a stunning effect. Light stands and rotating light stands are available on this page.

Limited Edition.
8.5 inches tall.
Dolphin Tapestries - Click on an item for more details!

tbplpw-mww

Chritian Reese Lassen "Perfect World" Bell Pull / Wall Hanging

Lassen's classic work, "A Perfect World" is here on this bell pull. Use it as a decoration for any room or hallway! The exquisite design will certainly complement and enhance the beauty of your home or office. A beautiful piece of artwork that will be enjoyed for a lifetime. Makes a great gift! 41 inches x 9 inches

Only 1 of this item is left in stock!
Click here for item details!
$145.00
$69.99


hwtmdd

Dolphin Wall Hanging

This beautiful dolphin wall hanging is made in the USA featuring the finest fibers available. Our Jaquard woven designs offer lasting artistic significance and worth. The decorative forward patterns are of the home fashion's latest trends. 26 inches W x 26 inches H.

Only 1 of this item is left in stock!
Click here for item details!
$134.02
$65.99
---
Your Information Is 100% Safe

Certified and Guaranteed!